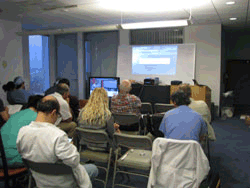 For over 20 years now, Keep the Beat training center has been proudly serving professionals throughout Southern California. In keeping with our record of service our diligent staff is on-call 24 hours a day and 7 days a week to provide our clients with all of the necessary Cardio-Pulmonary Resuscitation (CPR) training. We are qualified in techniques ranging from Basic Level CPR, to Advanced Cardiac Life Support to better serve our client's specific needs.
Unlike most CPR training companies today, Keep the Beat can perform training sessions in whichever location that is most convenient for the client. We are able to schedule group or private lessons to be conducted in the client's home, office, church, or other facility as requested. Our methods involve using only cutting-edge and up-to-date materials to ensure the effectiveness of the training.
Keep the Beat aims to make every training experience both positive and stress-free in accordance with our company policy. We are dedicated to service with integrity, efficiency, and professionalism. Whether you're a new or returning client, we look forward to serving you and providing you with the skills that might save a life.
Keep the Beat… Saving lives since 1989.